So, I got tweeted the other day that this blog has won another award!  I kinda feel bad about it because it's been fairly stagnant here. I just haven't had a lot to talk about, mostly because I haven't been playing too much lately. But, with all of my leagues wrapping up soon, maybe I'll get a chance to get back at the table and start improving my game again.
In the meantime, here's the award I received: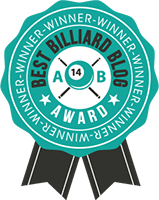 Unfortunately, it seems the hosting website is not responsive for me at the moment, but in case it does come back, I've linked it here.